Energy Plant Solutions of Palmerston North, New Zealand needed a cost effective automation solution for their range of package boilers. The Vision1040™ met all their needs and stayed within their budget. "Working with the Unitronics combined PLC and HMI make other systems feel old fashioned and obsolete." – Justin Butler, Senior Electrical Engineer at Energy Plant Solutions.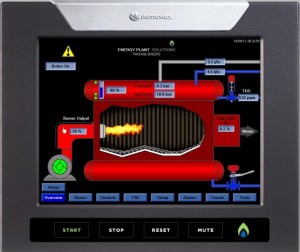 WHY THE VISION1040™? The V1040 provided the right balance of screen size and number of physical buttons as well as communication ports. Because they were using the EX-A2X along with (2) IO-DI16, (2) IO-RO16, (2) IO-AI8 and (2) IO-AO6X's, (Giving a total of 32 digital inputs, 32 relay outputs, 16 analogue inputs with 14 bit resolution and 12 analogue outputs with 12 bit resolution all neatly DIN rail mounted) the large screen allowed ample room to display the required information while keeping the fonts and elements large enough for easy reading. The physical buttons allowed them to have most buttons always available without using up any of the screen. This also helped with keeping the screen clean.
"There were significant cost savings using the Unitronics PLC," said Justin Butler, Senior Electrical Engineer at Energy Plant Solutions. "This is for both the development software licensing (it doesn't get much cheaper than free) and also in the time required to develop the PLC/HMI software. Making changes is so much quicker when you can add the necessary logic to the PLC program and then immediately add the new elements to the HMI without having to export or import tag data, etc.
Also if we need to move some operands we can do it in a single step and the changes are made to the PLC and HMI code immediately." Butler goes on to say, "With Remote Operator, we can see exactly what the operator sees from our office at the other end of the country via a VPN at absolutely no cost either financially or in development time. This is a huge advantage if the client requires assistance to solve a problem. Because the PLC and I/O modules are all 24VDC, we were able to use a 24VDC uninterruptible power supply ("UPS") to maintain power to the PLC and I/O on power failure. Because the "UPS" does not need to step the power up to 230VAC before being stepped back down again, we achieve maximum up time afforded by the batteries. It is also safer because there is no 230VAC present when the main power supply is disconnected."
The SMS system sends the operator an actual description of the fault, rather than just a generic "boiler fault" message. This allows the operator to make a decision on how quickly he needs to attend to the fault. The fault messages on the HMI and SMS are the same and come from the string library- therefore, they do not need to be coded twice.
"Unitronics PLCs allow us to run the PLC without any I/O attached. This is great for testing before the system is deployed on site," says Butler. "This works like a simulation where we can enter any values we like for conditions and test that the PLC acts as intended. We can also check that all the graphics work and look good on the actual screen that will be used. This means we can do 90% of the testing before we even go to the site."
"Working with the Unitronics combined PLC and HMI make other systems feel old fashioned and obsolete," says Butler. "The support from Unitronics, from our local supplier, to email support, to help ideas on the forum, has been absolutely fantastic."
For more information http://www.unitronics.com/Content.aspx?page=ApplicationStory "Boilers" section: "Energy Plant Solutions-Package Boilers"