PLC+HMI all in ONE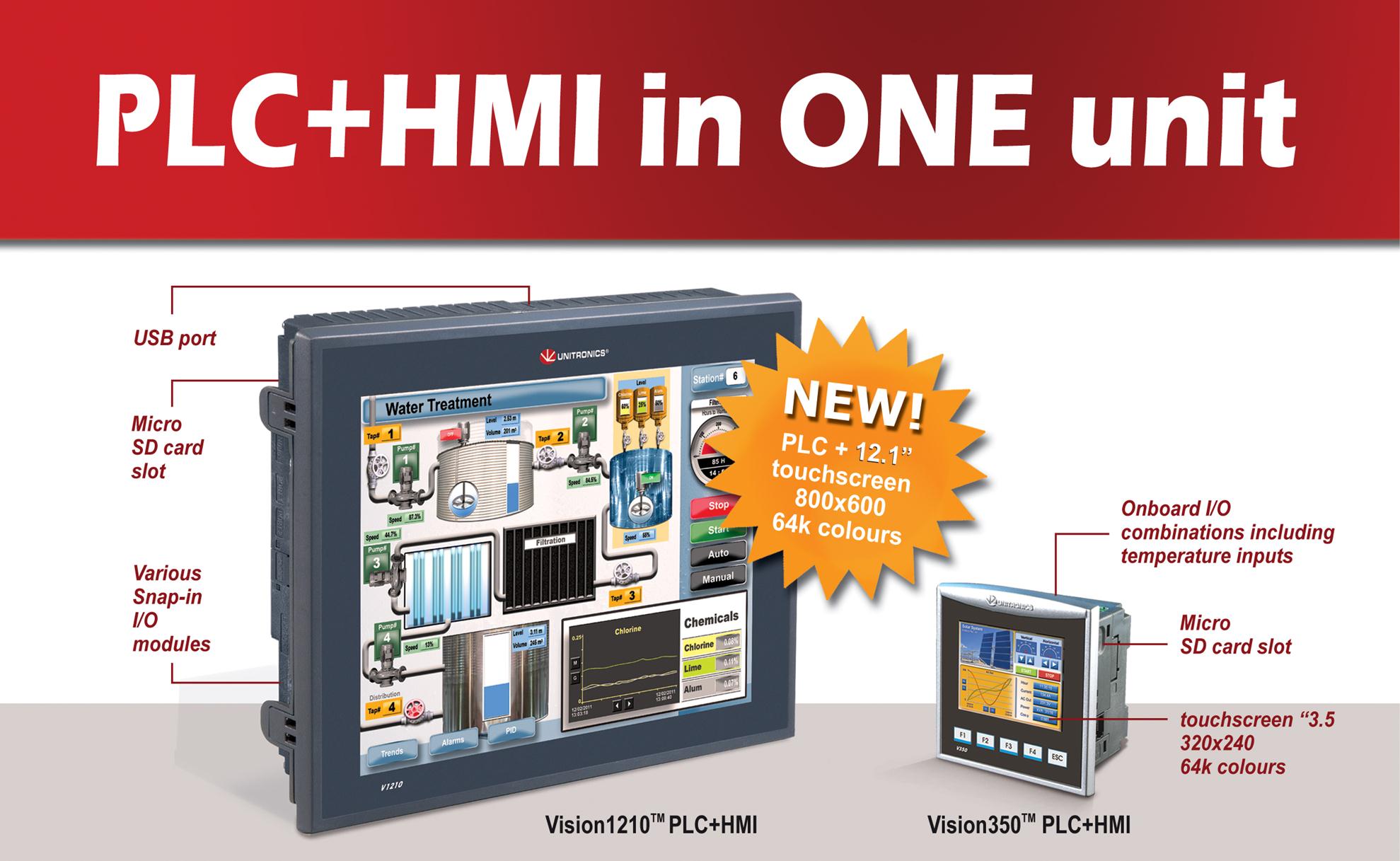 Cost Savings Having a combination PLC+HMI has many advantages over the traditional control. You can use the FREE programming software and FREE programming cable to get things started straight out of the box or download the software in advance and start planning and developing your project. You only have to programme a Unitronics OPLC once, as the controller is an integrated PLC+HMI giving you a further cost saving as you are now saving project time, plus free support (no maintenance contracts).
There are three ways of connecting the inputs and outputs (I/O) all very cost effective and any method can be used independently OR all three methods can be used to give optimum distributed control.
On board IO is the lowest cost option by having all the wiring on the back of the PLC+HMI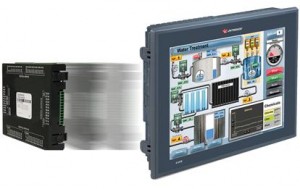 using one of several snap in cards or on smaller units selecting the type of display and then your type of inputs and   outputs. This is not only a low cost solution but it also makes the most use of  the available space.
DIN railmounting allows you to either expand your I/O count or to more conveniently mount your I/O on DIN rail up to 20 meters away from the PLC+HMI using the dedicated I/O expansion port and Unitronics own wide range of cost effective I/O modules allows for an easy way to expand your control.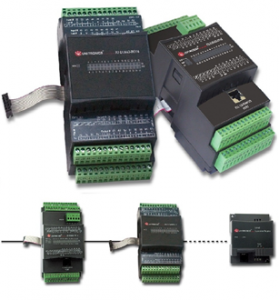 Lastly Remote IO can be achieved using the easily configurable CANbus option (included "free of charge" on all 5.7", 10.4" and 12.1" models) which allows you to link several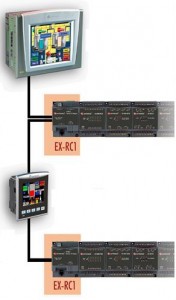 controllers together or a single controller to remote I/O islands again using   Unitronics own wide range of modules. It's fast and easy to use with Unitronics own UNIcan    version being used over the CANbus network taking the strain out of               configuration. Plus most controllers have MODbus built in and Profibus options as well as Ethernet, all easy to configure with simple function blocks.
The Unitronics range accepts a wide range of inputs from Thermocouples, PT100, load cell / strain gauge and standard analogue inputs and using the built in PID control it can easily become your complete machine controller. The flexibility of having PLC+HMI in ONE allows for the removal of several standalone devices with a single cost      effective controller with its free                 programming software and several utility              programmes giving you easy remote access and complete control of your equipment.
i4 Automation and Unitronics are so confident that once you have tried their range you will be hooked that they are running training courses for just £50 per day. With the objective of getting you up and running with hands on programming so you will quickly see the benefits for yourself. The booking fee will then be refunded with your first order and you will be offered a 35% discount (Terms & Conditions apply). Last time this
training was run it was very quickly booked up and hence we suggest booking early. Sounds too good to be true? Please contact us for more information and make the most of our combination PLC+HMI and the terrific training deals while you still can. Do not forget the support and the software are FREE and full working copies of the software can be downloaded from our website.
Official Distributor