Introducing Jazz® 2
Twice the Power ! 30x the Speed ! Same Low Price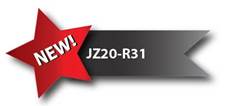 Meet the first member of the Jazz 2 series, the JZ20-R31. This game-changing model is thirty times faster, has twice the memory, and yet sells for the same low price as the JZ10-11-R31.
In addition to all the core features, JZ20-R31 comes with the following enhancements:
•    More than 30 times faster performance
•    Double the memory size for Ladder code and OS
•    Built in mini-USB programming port
•    Future support for external Ethernet port, details will be announced at a later date
When Can I Get One? NOW we have stock!
The unit is already available in stock. Full availability will be reached during April.
What U90Ladder version is compatible with Jazz 2?
What about my existing applications for JZ10-11-R31?
Jazz® 2 offers the same look, dimensions, wiring, and functional behaviour!
Update your existing project to use Jazz® 2 in three steps:
1.    Open the application.
2.    Select the new model in Hardware Configuration.
3.    Save the application.
When will the JZ10-11-R31 offer expire?
We will accept purchase orders submitted before August 31st.
Separate notice will be issued to announce the availability of JZ20-R10 & JZ20-R16.
Data sheets and more information coming soon!