The New Fresh Look
Unitronics and i4 Automation are proud to introduce the new fresh look for the Vision350™ series!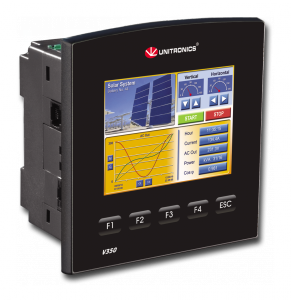 Same Features ▪ Same Low Price ▪ IP66/IP65/NEMA4X
Following the success of the 5.7″ flat-panel, we are introducing the new flat-panel 3.5″ V350-J models that are specifically suited to the requirements of the Food & Pharmaceutical Industries.
What are the differences between the V350-J Flat models and the V350 classic models?
The models are identical: Specification, Wiring, Software, Size and Same Low Price. The only difference is the look.
V350-35-TR20 =  V350-J-TR20
V350-35-TR6 = V350-J-TR6
V350-35-R34 = V350-J-R34
V350-35-TR34 = V350-J-TR34
V350-35-RA22 = V350-J-RA22
V350-35-TRA22 = V350-J-TRA22
V350-35-T2 = V350-J-T2
V350-35-T38 = V350-J-T38
V350-35-TA24 = V350-J-TA24
V350-35-B1 = V350-J-B1