To celebrate the World Cup in Brazil and Unitronics launching the Samba we would like to offer you a World Cup Mini football with all Samba orders.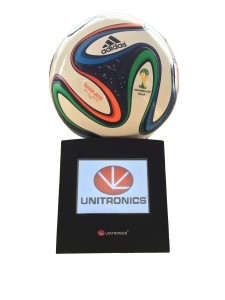 Not only do you get a great value text display replacement with the Unitronics Samba 3.5″ full colour combined PLC but for a limited time we will include a mini football.
Samba is ideal for those simple automation and control applications where you need a touch screen and some interlocking PLC logic. i.e. pump control, load sharing and sequencing.
Special World Cup Price
Terms and conditions apply.
Still using a text display?
SM35-J-R20 OR SM35-J-T20
+ a programming cable
+ Mini World Cup Football
= £171.00
With a choice of 2 models with 8 relay or 8 transistor outputs (PWM), 10 digital inputs plus 2 analogue or digital inputs its easy to pick a winning combination. Full of features including auto-tuned PID, real time clock, more information on the data sheet.
Sorry only one per customer offer valid while stocks last, terms and conditions apply.
Price excludes VAT & delivery.
IN STOCK NOW!
01480 395 256
www.i4Automation.co.uk/samba